Where do you think your passion for the arts came from?
We grew up in an environment of nature and painting, my mum was an artist, so all around me was creation of beauty and art. My paintings, especially landscapes, were affected by that. My dad also works in flowers and gardening, so since I was very young I've been drawing, and I've been encouraged by my parents who always said that I would be a painter. My presents every year wouldn't be toys like other kids, they were colouring kits.
And when did you decide to do it professionally?
In 2011, I did my first exhibition, by chance actually. A gallerist saw my work and told me that I have talent, and asked me to work with her on an exhibition. I had a lot of paintings back then, but never thought I would show them. So that's when I did my first exhibition, which went really well, and I've had nine or ten exhibitions since then.
In your work, you're known for bright colours and blurred lines, they kind of look like a daydream. Can you tell us more about your style?
Usually, everybody who paints or is an artist, or everybody in general, sees the world differently. For me, I always see shapes and colours wherever I look. When I'm at a place and I feel inspired, I have to draw it, and to me I'm drawing it as is, it's how I see it.
A large part of your paintings are landscapes and cityscapes, why do you think you've been attracted to this?
The Lebanese heritage is extremely rich, and the houses were very architecturally inspiring, and the landscape is striking. But it's constantly being ruined, houses are demolished and mountains are being destroyed. So, in my paintings, I try to store and reserve them. I could draw a house that in a couple of years will no longer exist.
Do you think your attachment to your home country affects the way you see it in your work?
You always add something to your work, when you're taking a photo, for example, you're showing things as they are. But when you paint, you have a chance to enhance things. Some places I paint may not be so vibrant or bright, but me painting it gives me the chance to shed whatever light I want on it. In photography, you can barely play with some aspects of a photo, but on my canvas, I can do whatever I want. If I can make something more picturesque than it is, then why wouldn't I?
Who do you think has been your biggest influence?
I'm very inspired by my mother, and I've inherited this as well, I think. My grandmother was also a painter; she wasn't an artist but she was very talented. My family has a great amount of artists, so I think heredity played a role in this. I'm also surrounded by lovely natural sights, and visits to museums and inspiration all around.
And what about other artists who inspired you?
I love Paul Klee, I love Pierre Bonnard, Kandinsky, every artist stirs something new in me, but each has their own thing. I don't know how affected I am by them, but I'm sure they affect me. Every place you go to leaves a mark on you, every museum, every culture, it all shows.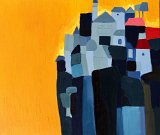 In the exhibitions you've had in Dubai, Oman, Beirut, Paris, Venice, and more, how has the reaction been to your work?
In Paris, the Lebanese audience liked the images of their country, but the others were able to see a new idea of our country. They saw cedars and evergreens, and the architecture of old houses. Lebanon has a lot in it, if we would stop ruining it. It's nice to give a good image of our country, they usually see images of war, and art that shows our problems. But sometimes, it's important to see art that comforts you, art that's bright and colourful. It could encourage us to improve on the positive aspects of our country, to plant more and build more. Even in Italy, they took a very good impression of our country. Some people imagine Lebanon as a desert, and then they see these images of greenery and beauty. It gives you a chance to talk about Lebanon, about our weather and culture.
On another note, you're also an entrepreneur, you have your own lipstick line, Lumalu, based in the US. Can you tell us more about it?
It's not really detached from my art, I studied art and packaging, and I have a love for colours, and I love lipstick. And nowadays, you need everything to be healthy and biodegradable, because in the end you're eating your lipstick. So I worked on making a lipstick that's edible and hydrating, and attractive. I also worked on the packaging, and painted them myself, and even the package is biodegradable, so it's earth-friendly and pretty and artistic. I manufactured it in Dallas, and we're currently distributing in Lebanon, and it's available on Amazon.
What are you currently working on?
I'm now working on an exhibit, I haven't decided where it will be yet, but it will be from the mountain to Beirut. So crossing the mountains coming to Beirut, it'll be a mix of my landscapes and cityscapes, and it's abstract and it will be done with oil. I'm enjoying the feeling of oil and the colours and their vibrancy. The pleasure of being an artist is being able to sit in a field and paint, taking your tools and being inspired.