1 Bella Hadid had a theatrical entrance at the Atelier Versace show with dangling disheveled draperie attached asymmetrically on a powerfully red split dress.
2 Bella Hadid again, wears Alexandre Vauthier who revisits the military theme and brings the camouflage pattern to new levels, that of Haute Couture, with glittery sequins and a green fluid bare tulle skirt.
3 The J. Mendel collection bridges his city of adoption, New York, and his city of origin, Paris. His collection is at the same time an hommage to Keith Haring and his graphical patterns shown in the white and nude tulle midi dress, and to the urban geometric map of Paris shown in the dégradé pastel gown. Shoulder cut outs add to the modernity of the designs.
4 Iris Van Herpen's collection is inspired by the study of cymatics, which visualizes sound waves as evolving geometric patterns. The dress below is made of thousands of bubbles hand-blown in transparent silicone, creating a bioluminescent prism around the body.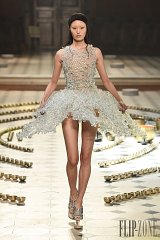 5 Cubism and surrealism reign at Schiaparelli, producing a little piece of art with the below shorts and bustier inspired by Picasso. The long Elie Saab dress, called "New York Skyline", shows an abstraction of the city of New York at night, its buildings in velvet shapes, its birds in antic gold silk threads, sequins, beads and crystals.
6 Schiaparelli's « Miss Aérogyne, Femme Volante » gown is knitted in wool and gold threads in a gradient effect. A metallic brooch of a winged golden cage hints to the circus theme of the collection.
A muslin golden gown pays tribute to the Circus collection of Elsa Schiaparelli in 1938 and her passion for shine and light. The straps-jewels recall her passion for the Calder Circus and its little sculptures.
7 Ralph & Russo's gown is romantic and ethereal and at the same time very modern because of the contrast between the tailored collar and cuffs, and the silver accessories on one side, and the silk organza floral cut-outs on the other side.
The pale blue gown shows wonderful fluidity with its silk double satin. Its asymmetry and keyhole front give it a lot of dynamism. Its braided belt recalls Grecian drapés.
8 At Versace, intricate folding and draping produce sophisticated silhouettes, like the long and short sky blue gowns below which contours were cut in engineered curves.
9 The Versace messy chignons and graphical make-up (blue cat eyes and sparkling burgundy lipstick) work well with the deconstructed folds and draperies.
10 Giambattista Valli's babydoll dress has an empress Joséphine feel with its pouf sleeves, flower prints and empire waistline. The Buccellati wrapping necklace completes the royal touch.
The dress on the right reinterprets the ballerina costume. The puffy tutu is made of deconstructed embroidered tulle. The top part is successfully abstracted into main structural lines: the bra, the necklace and the straps that link to the lower part.